Face Visor information
End of Face Visors available from Westhill Men's Shed
As the virus first came to the UK, PPE for protection against Covid-19 was not available to anyone except the NHS, and not even to them for many weeks. We knew that Care Homes, Key workers, individuals who needed support and their carers and small businesses would need visors and could not get them.
Westhill Men's Shed lead a volunteer team of 3D printers and assembly workers making face visors. With grants to cover our production costs we were able to deliver them free of charge. We made 2500 over 7 weeks before the Scottish Government chartered a plane from China to bring in about 10 million each of cloth face shields and visors and our main customer (Aberdeenshire council) no longer required them from us.
At the same time the visors became stock items from internet shops at reasonable prices (tip: look for UK stock and include postage; some suppliers sell for 1p and mark up the postage).
We stopped production. When we run out of stock we will will no longer supply them. This will be around the first week of June 2020.
*******************************************************************
Westhill Men's Shed has setup a team to make face visors for use by people who's essential work means they may be exposed to the virus through meeting people; key workers. There is the NHS but we are concentrating on carehomes and others who keeping the country going at some risk to themselves. They include supermarket and other food shops, filling stations, take aways, home carers, care homes and postal services and delivery drivers. Individuals who need help in their daily lives are included and there are people caring for friends or relatives.
Our team working on making and distributing the visors are all volunteers from the North East of Scotland, many with 3D printers making the frames in their own homes, others making the visors and a bunch of people making the system work.
Supply
We make a limited amount (i.e. as fast as we can currently 700 a week).
The majority are distributed by Aberdeenshire council to staff in the NHS, sheltered housing, care homes etc. Aberdeenshire council have their priorities for distributing these.
The rest are supplied directly by Westhill Mensshed to the community; to anyone who needs to interact with the public as part of their work. Care homes, charities, shop staff, delivery drivers, small businesses who need to interact with the public and also to people caring for others in a domestic setting.
If you want a face visor, they are free of charge, please email: visor@westhillmensshed.co.uk
Please say who you are, how you qualify, your phone and address and how many you would like. We will be in touch.
Please note that ALL visors are totally free and we don't expect anything in return.
You can if you wish make a donation on our donations page.
Support
If damaged the visor can be replaced: an A4 sheet of crystal clear polycarbonate, 250 microns (0.25 mm) placed in landscape orientation. They are sold as clear report covers, overhead slides etc. in stationary stores. Round the bottom corners and use a 4 hole punch to punch holes to match the old one.
We can supply spare visors on request.
If you want to block bio aerosols from entering at the forehead please tape a cutout from a plastic sheet (e.g. another visor sheet or a divider from a report) over the gap and tape on. It may cause fogging- there are anti-fogging sprays as used by motorcyclists and we can supply a small amount of these.
For any help you need please email: covid@westhillmensshed.co.uk
Version 2 is an NHS approved design and applies to all visors made after end of April: Face visor v2 user guide WMS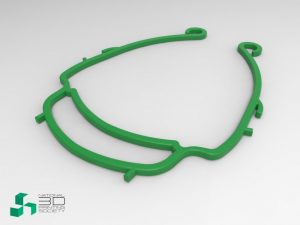 Cleaning
Latex gloves are recommended, don't touch your face until you have washed the visor and then your hands. 
To clean the whole unit use your workplace protocol, Alternatively you may  clean the mask thoroughly with approved alcohol based hand sanitizer or the whole visor can be immersed in soapy water (washing up detergent works as well) for 5 minutes- agitate to dislodge bubbles and wipe with a cloth soaked in soapy water. The water temperature is a max. of hand hot, 40 degrees C. Hand hot is where you can put your hand in the water without having to pull it out in a hurry.
If working with someone with the virus the visor will get airborne droplets containing the virus settling on it- wash the whole unit as above or wipe it down with sanitiser or a soapy cloth and wash your hands.
Replace the visor if it scratches, the new visor is an A4 sheet 240-250 microns thick and must have the bottom corners rounded for safety. Use a standard 4-hole punch to make the holes.

The visor cannot be washed in the dishwasher.

There is no certification associated with this visor. Westhill Men's Shed provides the equipment as seen with no warranty express or implied and is used at your own risk.
Funding
Generous grants mean we supply free of charge- please do not abuse this but do email if you have a legitimate reason to have one.
You can support our work by donating with a PayPal account or a credit card on our donations page.
With grateful thanks for their generous support to
Aberdeenshire Council Community Resilience fund.
Scottish Government Response, Recovery and Resilience Fund.
Westhill Lions Club
Our Members and Supporters