Westhill shed is a lively place with a lot always going on.
The shed has a well equipped wood and metal working workshop where you can do the things you would in your own shed but with company. Not only someone to chat to but to get ideas from or pass on some of your own knowledge. You can bring your own projects to work on, or help the shed with ours. You don't have to use the workshop, some guys use the coffee table to set the world to rights, others build models, use the computers and 3D printer or play bridge.
It is completely free to join and to attend. We keep ourselves afloat by integrating with the community, doing projects as requested by the residents, schools, charities and others. We also take in unwanted tools to refurbish plus rescue  lawn mowers, strimmers etc. from landfill. These are sold to the community at knockdown prices and through all of that we keep the lights on.
Everyone is welcome, wherever you live if you can travel to the Shed you can use it. Just drop in anytime we are open and someone will show you around.
Opening times Monday 10-4, Wednesday 2- 8 p.m. and Friday 10-4.
See the Where? page for location and further contact details. Latest News is at the bottom of this page.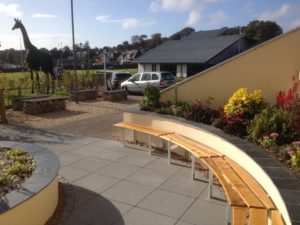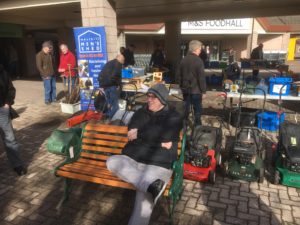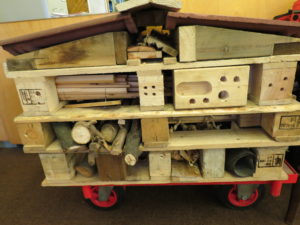 See the gallery page for other projects.
WHAT IS HAPPENING NOW?
Always a busy place but equally time for a cuppa and a chat.
PROJECTS
Shed projects always have a garden bench or two under way with special requests being woven in. The variety of things we are asked to make constantly surprises us. The curved bench at the Children's hospital is our pride and joy, we have made stage sets for the Academy, mud kitchens, planters, beasty mansions and eco- greenhouses for primary schools.
ENGINEERING
The mainstay is refurbishing tools that have been donated as well as mowers and strimmers etc. saved from landfill through a brilliant agreement with Aberdeenshire Council and the recycling centre. These are sold to the community at knockdown prices and we get a lot of satisfaction from reducing the carbon footprint and finding a good home for some excellent garden and engineering tools.
We will repair your garden tools and electrical items too.
MODELLING, 3d PRINTING, BRIDGE, GUITAR
Join our modelling group who are make model railways. Learn to make 3D models play bridge or guitar.
STORES, FUNDRAISING,  MANAGING THE SHED
We have a stock of refurbished tools that have been donated to us as well as wood, screws, nuts and bolts. Funds are raised from local initiatives such as the raffle, social evenings, draws.
OTHER ACTIVITY…
Our thriving Sheshed has a session every two weeks. The She shedders are doing their own projects and working on shed projects. They recently refurbished a Church bell. You can join the Sheshed by sending an email to the contact@westhillmensshed.co.uk address.
Our new Portakabin is fully working now so there is plenty of space for the tea table.
We have talks, usually on Wednesday evenings during the dark nights. Most are health related; we have had talks on prostate cancer, Alzheimer's, Heart disease and many others given by experts in each field. Local history talks are also given by an expert. These are announced through our mailing list or a poster at the shed.
Social events are held at the shed when family and friends are invited for a burns supper, pizza night, BBQ, Xmas lunch etc. We hope to restart these after Covid lockdowns in 2022.
If you join the shed we will include you in our mailing list to keep you up to date.
NEWS
Workshop Extension 
The cabins were installed on Friday 16th August- the last day of the school holidays. Phew… once school was back we would not have got the cabins in except at the weekend. Here are a couple of pictures and this link shows the second cabin being lifted into place. The wind was getting up so the crane went low to avoid it.
Nicol of Skene did the site clearing, with Stuart Grassic installing the drains and roads and making the pads for the cabins to sit on (so accurately that no shims were needed to level up), Greenwell supplied and fixed the cabins (ex-classroom at Oban), Global Port Services supplied the very impressive 150 ton crane and Andy Moon will do the joinery work.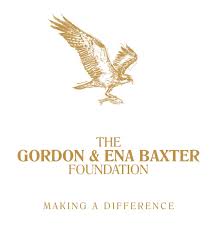 The Gordon and Ena Baxter foundation are contributing by paying for the inside finishes.
The Gordon and Edna Baxter Foundation is a legacy project of the late Gordon Baxter and his wife Ena. The organisation supports charities and worthy community causes throughout the North East of Scotland and the Highlands and Islands. The foundation is chaired by Gordon and Ena's grandson, James Baxter.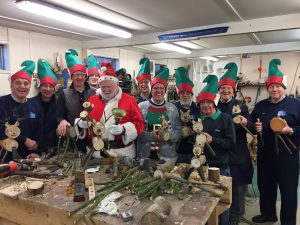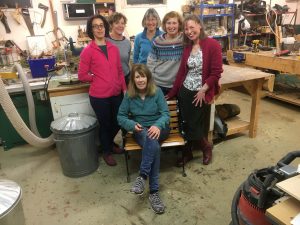 Sheshedders with their finished bench