Open: Monday & Friday 10:00 to 4:00 and Wednesdays 2:00 p.m. to 8 p.m.
Westhill Men's Shed, Hays Way, Westhill, Aberdeenshire, AB32 6XZ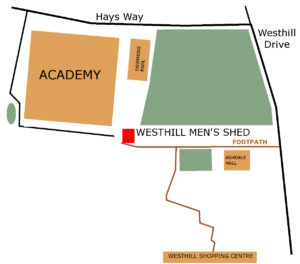 Our Shed is located in the old library. Driving along Hays Way enter the Academy drive, drive straight down as far as you can go and then turn 90 degrees left, be sure not to give up hope as the Shed is the building at the far end of the back wall of the Academy.
Walking, there is a path from the Ashdale Hall that leads to the Shed. If you are in the shopping centre walk along the path behind M&S, turn right at the end and go straight on till you come to a path and chain link fence, turn left and the shed is 50m from there.