…………………………………………………..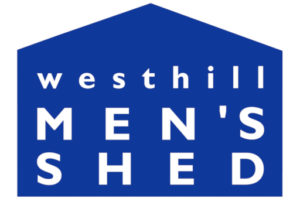 ……………………………………………………

The Queen's Award for Voluntary Services
Gentlemen/Ladies,
The Trustees of Westhill Men's Shed are delighted to announce that our Shed has received the "Queen's Award for Voluntary Service" in recognition of our work supporting the community of Westhill and surrounding area. The Queen's Award for Voluntary Service is the highest award a voluntary group can receive in the UK.
The Shed, with around 300 members, occupies a facility in the middle of Westhill and over the last 10 years has engaged with residents, schools, local business and other charities to do what men enjoy most- tinkering, repairing and building things. It gives men a sense of satisfaction, that at the end of the day, they have made a valuable contribution.
A Men's Shed is exactly what it says on the tin! The Westhill Men`s Shed is a place where men can come to work, relax and enjoy the company of other men. This improves their mental health and wellbeing, thus reducing a sense of isolation which often occurs in older gents.
Women find it easier to form social groups as if it is in their DNA. However, women also want to make and do the same things as men so we have established a She Shed group where women can use the facilities and equipment to learn DIY and woodworking skills and so on.
Men's Sheds started in Australia over 20 years ago and they now have over 1000 sheds. Westhill was the first Men`s Shed in Scotland which now has 133 Sheds open and another 56 in development.
We have been fantastically well supported by Aberdeenshire Council whose Community Learning and Development Department first recognised the problem of isolation and depression in Westhill and were prime movers in getting the Shed going. This has continued down the years until the present day, culminating in this prestigious Award. Many more individuals and organisations have also supported us and you can look at the press release here for more information.
In the early days of Covid lockdown we learned that Care Homes were not getting PPE because they were in an isolated bubble and were thus protected. However, Nick Pilbeam had been visiting a Shed member (now deceased) and observed how busy the staff were with visitors coming and going all the time. When Covid arrived visitors were not allowed, but the staff, on three shifts, would continue to go to work and rotate into the community. The staff and managers of the home provided excellent care, were dedicated to their residents and worked hard. As more information became known about Covid, that it could be fatal and in particular affect the elderly, it was clear they were going to be hit hard. On learning that Face shields could be made simply with a 3D printer and an A4 sheet of acetate a project was started to make them using the Shed 3d printer. Initially Shed members (some of whom had their own 3D printers) got involved. We soon realised that the volume needed to be increased quickly and therefore recruited over 20 individuals who had 3D printers in their own homes. A small army of face shield preppers and other volunteers were required to co-ordinate the production and distribution. Read more about this here.
The Sheshed started their own project to make scrub bags (a bag to put scrubs in to keep them together while being washed).
The upshot is that our trophy for the Queen's Award for Voluntary Service will be engraved with "Special Recognition – Covid-19". Nick Pilbeam said he is delighted that the urgency and community need for this work motivated a team of Shedders and volunteers to join forces to produce 2700 visors until supplies started to be imported.
We have a video on YouTube
The Trustees express their grateful thanks to all members, past and present, for the major contribution they have made to the success of the Westhill Men`s Shed and look forward to a time – hopefully in the near future – when the Shed is fully operational so we can enjoy pursuing our varied interests in our recently extended and upgraded facilities.
David Thomson
Chairman