Westhill Men's Shed face visor project
Written by Nick Pilbeam Westhill Men's Shed.
Shortly after the Covid virus struck everyone was struggling to understand the best way to deal with the situation. In Westhill Men's Shed we heard of the desperate shortage of Personal Protective Equipment (PPE) and wondered if we could help. We heard about face visors that would help protect people from air borne particles landing on people's faces- a first line of protection if covid was in the particles.
One of our members, Bob had recently moved into a local care home (now deceased, he was in the Navy during the war on the Russian Convoys but that is another story). From visiting him we knew a little about how they work. It was becoming clear that older people are very vulnerable to getting a bad case of covid and that of course is a care home's residents.
The staff giving residents care are in a very risky position. This care involves being close to the resident whether helping them bathe, get dressed, feed, talking to them and so on. We saw dedicated staff working hard; 24/7 care needs a lot of staff rotating between the home and their home. A care home resident with covid may cough on them.
We heard that care homes were not going to get PPE as they were already isolated bubbles and would not need it. Clearly this was wrong and was the motive for the Men's Shed project to ramp up.
The visors are a simple design of two parts. A frame to fit the head and an acetate visor clipped to it. It was developed by the National 3D printing society and they have NHS approval for it.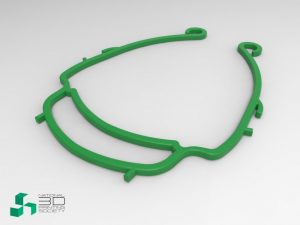 3D printed frame and completed visor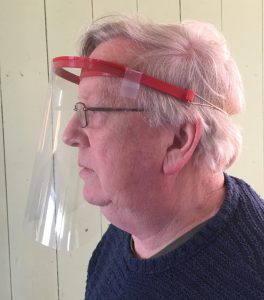 We had a 3D printer in the shed and a small group of men had formed to learn how to use it. Several had purchased their own to use at home.
We asked them to start producing headsets as fast as they could, it takes about an hour each on a domestic printer. Then we recruited a small army of trimmers to trim the acetates and punch them. The organisation soon grew legs because of course we needed to take and track orders, ship them and so on.
We wanted to increase output the bottleneck was printing the headsets so we put out social media calls for people with 3D printers at home to help out. 23 people responded from around Aberdeenshire and nearby making headsets in their own homes. A selection of the volunteers are in the photo below, printing, visor trimming and organising.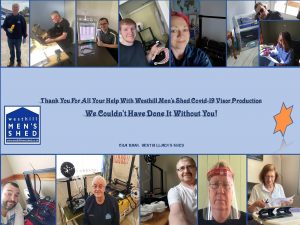 Meanwhile in the shed we had no income as we keep the lights on through our work for the community and we were shut down. It helped that we were making the visors at cost with all volunteer staff. Fund raising for making the visors was very successful. All materials were covered so we were able to issue them free of charge.
The funding deal with Aberdeenshire Council was that they got 80% of our output but crucially offered the use of their logistics fleet to collect from the home printers. This saved many awkward discussions with police about why we were travelling around in lockdown!
The rest of the production was distributed locally to care homes and small businesses in the area who had to stay open – shops, bakeries, take-aways, other charities and others who became known as essential workers. We also delivered to individuals who need carers to come to their homes.
Bob's care home, the original motivation for the project said that the staff were delighted to get the visors feeling much safer.
Eventually the Scottish Government chartered a plane direct from China delivering 11,000 face shields and with volunteers exhausted we closed down having delivered 2700 face visors.
Finally the link with Aberdeenshire Council produced an unexpected and very welcome thankyou letter from the Lord Lieutenant of Aberdeenshire (Mr Alexander Philip Manson) and recently, news of the Queen's Award for Voluntary Service with "special recognition – Covid-19" engraved on the trophy for this work.