Westhill and District Men's Shed
receives The Queen's Award for Voluntary Service
Watch the YouTube video about the Shed
Westhill and District Men's Shed, a group of volunteers based in Westhill Aberdeenshire have been honoured with The Queen's Award for Voluntary Service, the highest award a voluntary group can receive in the UK.
A Men's Shed is a place where men can meet to socialise and work together on a wide variety of projects and hobbies. Using our well-equipped workshop, men of all ages, backgrounds, and interests share their skills working on personal and community projects. It is a unique place where men can socialise and satisfy their wish to be productive. This improves mental and physical health and general wellbeing of the members.
Our workshop


working together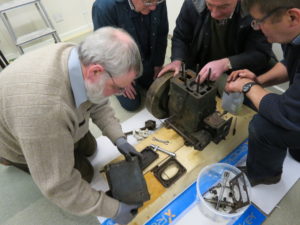 and tea-table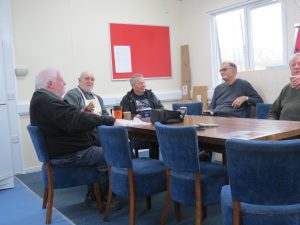 Westhill shedders work together on a variety of projects. The model group is currently working on a model of the Peterhead Prison Railway which will be on display in the Peterhead Prison Museum.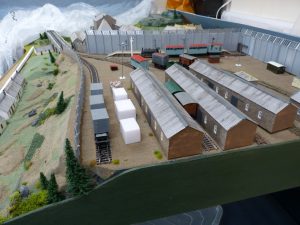 We also carry out various community projects, making benches, raised beds, etc. for local charities, schools, and other groups.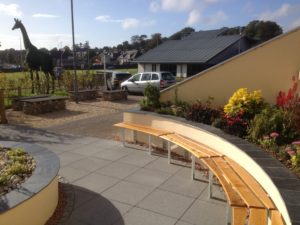 Archie bench at the children's hospital in Aberdeen
We repair, re-furbish and recycle garden equipment (from spades to mowers) giving them a new lease of life.
It all benefits the local community- residents, care homes, hospitals and other charitable organisations.
When asked what he would be doing if not at the men's shed one member replied, "exactly the same in my shed at home- but on my own".
"I just wanted to send a quick email to say a huge thank you to the Men's Shed for the Face Visors, I picked them up on Sunday and we are in the process of distributing this week with a view to start routinely using them."
Sheltered Housing Manager
Westhill Men's Shed, is one of 241 charities, social enterprises and voluntary groups to receive the prestigious award this year. "Special recognition – Covid-19" will be engraved on it for the production of PPE in the early days of Covid-19. The number of nominations remains high year on year, showing that the voluntary sector is thriving and full of innovative ideas to make life better for those around them.
The Queen's Award for Voluntary Service aims to recognise outstanding work by volunteer groups to benefit their local communities. It was created in 2002 to celebrate The Queen's Golden Jubilee. Recipients are announced each year on 2nd June, the anniversary of The Queen's Coronation. Award winners this year are wonderfully diverse. They include volunteer groups from across the UK, including an inclusive tennis club in Lincolnshire; a children's bereavement charity in London; a support group those living with dementia and their carers in North Yorkshire; a volunteer minibus service in Cumbria; a group supporting young people in Belfast; a community radio station in Inverness and a mountain rescue team in Powys.
Representatives of Westhill and District Men's Shed (Westhill Men's Shed, WMS), will receive the award crystal and certificate from Mr Alexander Philip Manson, Lord-Lieutenant of Aberdeenshire later this summer. Furthermore, two volunteers from Westhill Men's Shed, will attend a garden party at Holyroodhouse in July 2022 (depending on restrictions at the time), along with other recipients of this year's Award.
The Chairman, David Thomson commented " it is a great honour to receive this prestigious award. Our Shed is an ideal place where men can go and get the benefit of socialising, sharing interests, exchanging experiences ,learning new skills and working side by side with other men.
This award recognises the commitment of our members, who are all volunteers, for the work they do on a variety of projects for the local community"
END